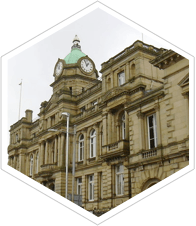 A market town in East Lancashire, Burnley has a population of around 73,500 and is home to a variety of bars, restaurants and retail stores.
Did you know that Britain's shortest river is the Brun which runs through Burnley? And did you know that Burnley Miners' Social Club sells more Benedictine than any other hostelry in Britain? Burnley buys roughly one in every three bottles of the stuff sold in the UK. As WWI ended local lads were stationed in Fecamp where what they dubbed Bene is made, and during the winter of 1918-19 got a taste for drinking it 50/50 with hot water, still the custom in the town to this day. It is also home to one of our customers – Gawthorpe House a Jacobean Country House with mid-Victorian alterations by Sir Charles Barry, superb plaster ceilings, wooden panelling, 17th century National Portrait Gallery paintings and Shuttleworth textile collection on display.
North West Business Machines specialise in supplying robust EPoS systems in Burnley. We work closely with businesses to provide a seamless, cost-effective EPoS solution.
Save