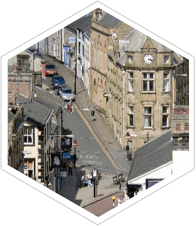 The market town of Clitheroe is well known for its lively nightlife, fantastic restaurants and independent retail shops that specialise in unique products that you'll struggle to find on the high street.
The annual Clitheroe Food Festival takes place in early August. Eighty or more Lancashire food and drink producers are selected to participate by the festival organisers. Lancashire's top professional chefs, the town's retailers, groups and volunteer organisations also take part. Clitheroe has many small independent shops and is one of the UK's top locations for fine food and drink establishments. Clitheroe is also home to our customers –  Holmes Mill and Bowland Beer Hall with possibly the largest bar in Britain.
With over 45 years experience we work closely with all kinds of businesses in Clitheroe to provide specialise EPoS systems. We've the expertise to provide completely bespoke EPoS systems in Clitheroe.
Save