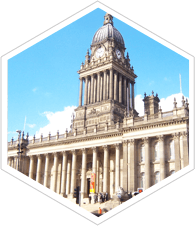 A mecca for shopping and home to an exciting mix of sophisticated restaurants, quirky cafes and lively bars it's easy to see why Leeds is one of the busiest cities in the UK.
Leeds is a city on the south bank of the River Aire. It is home to the Royal Armouries, which houses the national collection of arms and artillery. Across the river, the redeveloped industrial area around Call Lane is famed for its bars under converted railway arches and live music venues. The 1904 hall of Leeds Kirkgate Market is the largest covered market in Europe and features hundreds of indoor and outdoor stalls. Leeds has excellent shopping, dining and evening venues.
With over 45 years experience North West Business Machines specialise in EPoS systems, Leeds. We've got the expertise to provide completely bespoke EPoS systems to all businesses.
Save
Save