Bar EPoS Leeds
If you're looking for a pub or bar EPoS in Leeds, North West Business Machines has the ideal solution for you. Here at NWBM, we have more than 45 years of experience in providing reliable, customisable and powerful EPoS systems for businesses just like yours.
We understand the hospitality industry and the unique needs of bars and pubs, which is why we've developed an EPoS system that meets your needs, improves the efficiency of your company and saves you money.
When choosing a pub or bar EPoS in Leeds Headingley, Meanwood, Harehills, Garforth, Birstall, Batley or Wakefield here's why NWBM should be your number one choice:
Bespoke Systems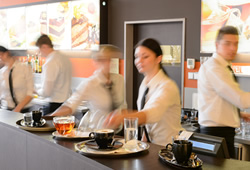 All our EPoS systems for bars and pubs are custom built for your specific needs. You can choose the particular features and modules you need, and you won't need to pay for options you don't want. Our highly experienced team will work with you to make sure your EPoS system meets all of your requirements.
Training
Before installation, you and your staff can visit our training facilities to try out our equipment under the guidance of our expert trainers. We also offer post-installation training if required, to make sure your staff are completely comfortable using the new system.
Improving your service
We know that bars and pubs can often be busy, noisy environments in which it's easy to make mistakes. Our clear, durable, easy to use and customisable graphical touch screens are specially designed to make sure that your staff can accurately input orders and process payments. This means fewer mistakes, less wastage and lost profit and a speedier and more impressive service for your customers.
Special features
Here are just some of the many features and options that can help to meet the specific needs of your pub or bar EPoS in Leeds:
Customisable pricing: variable price levels for all products make it easy to set special offers and promotions.
Stock control: automatically updated stock figures and a stock countdown help you keep an eye on popular lines and avoid customer disappointment.
Real-time on-screen prompts: give staff information on current promotions, special events or even cocktail recipes.
Customer loyalty: improve customer retention with reward points and discounts
For more information on bar EPoS in Leeds or if you think your bar would benefit from a touchscreen EPoS Leeds then feel free to give us a call on 01254 881177. Our industry leading experts will provide you with all the advice and information you'll require to ensure you'll get the most from your bar EPoS Leeds. Alternatively, you can get in touch via Twitter.


Save