EPoS in Bolton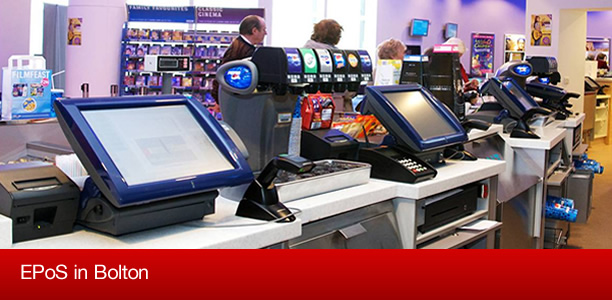 For over 45 years North West Business Machines have been providing EPoS in Bolton and surrounding areas including Edgeworth, Egerton, Bromley Cross and Farnworth to businesses in the Leisure, Retail and Hospitality industries.
Helping to streamline businesses of all sizes we provide state of the art EPoS systems that can be specifically tailored to suit the demands of your business.
Effortlessly managing and controlling your business from one system an EPoS in Bolton will completely transform the way you run your business. Equipped with the latest software we can provide EPoS systems that effectively track and monitor stock control, sales, top sellers, staff working hours, specific buying trends and much more. Reducing the stress and hassle that comes with every day running of your business an EPoS system will completely revolutionise the way you go about your everyday work.
Equipped with fast, robust software a state of the art EPoS system will improve your customer service, reduce human error and cut down on queues, improving the overall experience for all your customers.
Hospitality EPoS Systems
Looking after customers and ensuring their experience is second to none is vital in the hospitality industry. Which is why we provide an EPoS system specifically designed to store all your critical business information in one place, allowing you to save time and effort chasing things up.
Retail EPoS Systems
User-friendly and easy to customise all our EPoS systems are ideally suited for the retail industry. Reducing human error and decreasing queuing times our EPoS systems will completely transform your retail business!
Leisure EPoS Systems
As a leading supplier of EPoS in Bolton, we understand the difficulties of running a business in the leisure industry. With so many aspects to manage such as memberships, subscriptions, bookings and profitability the day to day running of a leisure business can become extremely hectic. But with a high-quality EPoS system, each different aspect can be managed at the push of a button, simplifying the way you go about your work!
Support
It's only natural for problems to occur from time to time, which is why we offer an unrivalled support service. With a team of highly experienced technicians just a phone call away we pride ourselves on providing an efficient, around the clock support service.
For more information on purchasing an EPoS system in Bolton then feel free to give us a call on 01254 881177. We'll provide you with industry-leading advice and information on which EPoS system would be best suited to your business, so what are you waiting for? You're just one call away from completely transforming your business!
Save