Fast Food Restaurants
Epos Solutions for the Fast Food Industry
A rapid way to increase efficiency amongst staff and improve the service you offer your customers.
Increase Speed of Service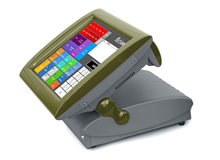 In a fast food environment, it's all about speed. The key to meeting your customer's expectations is having an efficient EPoS system that is easy to maintain, reliable and flexible. North West Business Machines efficient EPoS system for the fast food industry is the ideal solution, with powerful features which are made specifically for this high-speed industry.
Tailored Specifically for the Fast Food Industry
The speedy fulfilment of your customer's orders is vital to the profitability of your fast food business. North West Business Machines EPoS solution for the fast food industry allows rapid fulfilment of your customer's orders in a way that is simple and quick for your staff. Our robust EPoS system provides a reliable platform for 24/7 use. User-friendly flexibility lets you customise screens or add peripherals, with ease.
Key Features and Benefits
Unique Order NumberingWith every order to prevent order mix-ups
Telephone orders This powerful system has the ability to take phone orders
Mix and Match Promotions Run multiple promotions to maximise customer spend with minimal staff input and zero mistakes, improving customer service
Multiple Price Levels Hold up to 7 different prices for every product and run specially timed price shifts offers to entice customers to increase their spend per head
Unlimited Menu Item Options For accurate product selection
Order Point Printer Integration Improves the efficiency of your fast food restaurant
Timed Price Level Shifting For early bird specials etc
Stock Countdown For chef specials and fast moving lines
Driver Allocation Improves staff clarity
Full Customer Loyalty Improves customer retention
Full customer database stores customers previous orders so you can see what they want at the touch of a button
Drive Through Style Counter Service Option Order and pay at one point and collect at another
Completely Modular System Only buy what you need
Pre and Post Installation Training
We have extensive training facilities on site allowing you to demo all our equipment pre-installation, allowing you to become familiar with the equipment which guarantees a stress-free installation. In addition, once the equipment is installed we can also provide further training sessions if required. Training sessions will be led by highly knowledgeable members of our team who have relevant industry experience – ensuring your training is as effective as possible.
Around the clock Emergency EPoS Support
With a number of support packages available, we offer dedicated out of hours support 7 days a week.
A Flexible Approach
We pride ourselves on our flexible approach to our customers and appreciate that all customers have different requirements, depending on their needs. To talk to an expert then call us now on 01254 881177.