Pubs and Nightclubs
Powerful Epos Systems for Pubs and Nightclubs
North West Business Machines have over 40 years experience in providing robust, powerful epos systems for Pubs and Nightclubs.
Cut Down on Unnecessary Mistakes
In a fast paced, busy environment mistakes with orders, stock and finances are easily made and lead to unnecessary wastage and lost profit.
Our durable systems ensure your customers get the speedy service they expect whilst you get the inventory and cash accountability you need.
Speedier Service For Your Customers
With an impressive Graphical Touch Screen Interface, your staff can accurately input information, leading to speedier service for your customers.
This, along with other time-saving features such as Integrated Chip and Pin and Order Point Printer Integration means that your staff are working efficiently and your customers are happy.
Key Features and Benefits
Graphical Touchscreen Interface – Quick and accurate service increasing customer satisfaction levels
Unlimited Menu Item Options – Accurate product selection cuts down on costly mistakes
Order point printer integration – Orders go directly to the kitchen, saving your staff time passing checks down manually
Wireless Hand Held Order Taking for Table Service – Increase sales by upselling to customers who may not go back to the bar
Split Bill by Item or Quantity – Allows large parties to be catered for efficiently and reduces costly mistakes
Wall Mounted POS – For discreet order entering
Integrated Fast Chip and Pin – Reduces the time your customers spend in queues leading to a more enjoyable experience
Multiple Price Levels for Every Product – Set special offers at the touch of a button
Stock Countdown – Keep a close eye on fast moving or expensive lines
Full Stock Control – Always have the correct volume of stock on the shelf
Real-Time On-Screen Prompts – Remind staff to promote certain lines
Full Customer Loyalty – Allows customers to collect points and earn discounts improving customer retention
Special Offer Marketing – Promote special events and deals by marketing directly to your customers via email or text
Completely Modular System – Only get the features that will work best within your business
Real Time on Screen Prompts – Remind staff to promote certain lines and give staff guidance on cocktail recipes or up and coming events
Back Screen Advertising – Run enticing advertisements and promotions to customers that are waiting to be served at the bar
Pre and Post Installation Training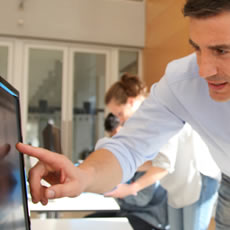 We have extensive training facilities on site enabling you to demo all our equipment pre-installation, allowing you to become familiar with the equipment which guarantees a stress-free installation.
In addition, once the equipment is installed we can also provide further training sessions if required. Training sessions will be led by highly knowledgeable members of our team who have relevant industry experience – ensuring your training is as effective as possible.
A Bespoke System
All our epos systems for pubs and nightclubs are completely modular & you only need to buy the features you need, saving you money on unnecessary modules that you won't use.
Expert Emergency EPoS Support
We offer dedicated out of hours support 7 days a week. So should you encounter a problem at once your EPoS system has been installed you can have peace of mind knowing you're just a phone call away from having one of our EPoS engineers help resolve your issue.
Our experienced team will listen to your business needs and help you make a decision that works for you.