Restaurant EPoS Liverpool
Why EPoS systems are invaluable to the smooth running of a restaurant
An EPoS system is the ideal solution to help you run your Liverpool restaurant in the most efficient and productive manner. It comprises of a computer package that contains everything you need to ensure a smooth customer experience at point of sale. The components will typically include Chip and Pin, cash drawers, customer displays, printers and keyboards.
In today's fast-moving world, the last thing you want is any problems and delays when a customer is trying to pay for their meal. This may discourage repeat custom, and an EPoS system is one of the things that will have people returning time and time again.
Here at North West Business Machines our systems are highly versatile, allowing for data entry through a variety of interfaces, including touch screens, typing and barcode scanners. This last option is useful if you have extraneous items for sale such as CDs or gifts.
Let's look at some of the main benefits of using EPoS systems: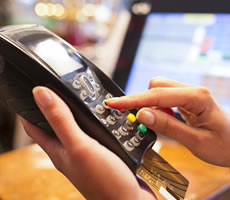 • It ensures prices charged are accurate
• Reduces waiting times
• Allows easy changing of prices for deals and offers
• Ensures error-free sales reporting, essential when calculating profit and sorting out taxes
• Keeps track of your inventory and stock levels
• Saves money as it allows your staff to work more efficiently and prevents costly errors
• Allows you to retain customer information so you become more attuned to the likes and desires of your clientele
Improving All Aspects Of Business
For a restaurant, an EPoS system can make a difference to all aspects of your business, not just when it comes time to pay the bill. Hand-held devices used by waiting staff allow them to relay orders wirelessly straight to the kitchen – so no more incorrect orders as chefs try to decipher a hand-written scrawl! EPoS also constantly collects data, so kitchen workers can ensure they have ample supplies of the most popular products. Of course, the bill is constantly updated as orders are delivered, meaning nothing gets missed out.
The system can even come into play before a customer has set foot in the restaurant, as a table planning facility can be included to make sure booking is a smooth and hassle-free process. For large bookings, you can also ensure extra staff will be on hand if needed.
Our systems are intuitive, straightforward and user-friendly, meaning you won't have to devote hours to making sure your staff are au fait with the process. All in all, using restaurant EPoS in Liverpool is something that you'll soon find you can't do without. For more information on Restaurant EPoS Liverpool feel free to get in touch, call us on 01254 881177.