11 Jan 2023
Five Tips to Boost Customer Loyalty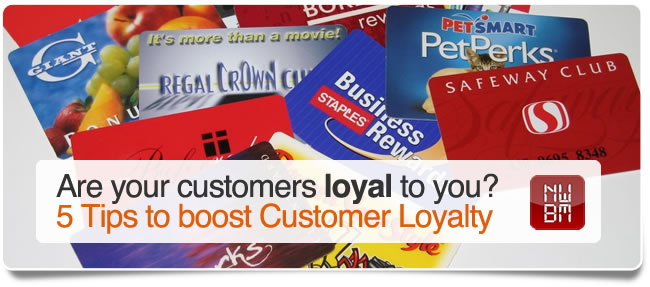 So, you've spent lots of time and money casting your lines, making your catch and reeling them in – but now you've got the customers, how do you keep them?
Recent research has shown that on average it costs 6 times more to attract a new customer than it does to keep an old one. The high cost of bringing in new business, compared to keeping existing customers happy is undisputed – so increasing your customer retention can dramatically boost bottom line profits. But how do you do it?
1. Customer Loyalty Schemes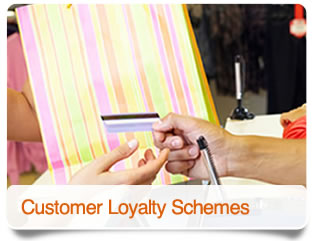 In a competitive market place where customers find it easy to switch supplier – loyalty schemes are an effective way to increase customer retention & make more money. To increase loyalty you need to recognise and reward your best customers. Loyal customers tend to buy more, and are even willing to pay more in some instances.
Customer like loyalty schemes as they feel like they're getting rewarded for giving you their business. When devising a customer loyalty scheme make sure you focus on specific goals, for instance are you looking for repeat business or do you want your customers to spend more?
Above all the scheme should be simple to use and the rewards attractive. The data generated from a loyalty scheme can also be used to improve your long term profitablity. Customer Loyalty Schemes put the spotlight on the behaviour of your customers. They can show you your best customers – and also your worse.
2. Focus on Good Customer Service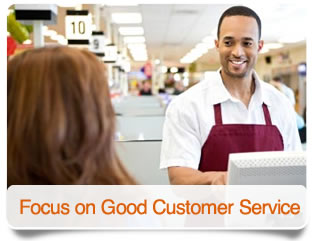 Good customer service will make your customers feel you care about their custom. Focusing on delivering excellent customer service can boost relationships with your customers – and keep them coming back time and time again.
Think about the current service you offer your customers, could this be improved? Are your customers served quickly? Are you staff well trained in the importance of customer service?
Bad news travels fast, and if a customer has had a negative experience at your shop then the chances are they'll tell their friends about it, worse still they may mention using the medium of social media, and let's face it – that isn't good for your business.
Keeping customers happy should mean that actions speak louder than words.
3. Get To Know Your Customers
Who are your best customers? What do they value about your business or service? Focusing on your best customers and tailoring your offering to suit them will keep them coming back for more. Customer loyalty is built over time, with consistent attention to your customers needs. If a customer does have a complaint or an issue then make sure you know how to approach them and help them solve their problem.
Understanding customers is the key to giving them good service. Great customer care involves getting to know your customers so well that you can anticipate their needs and exceed their expectations.
4. Ask for Feedback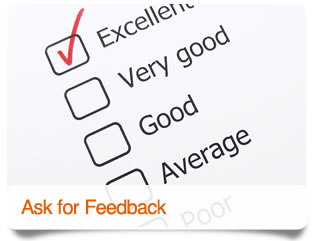 Asking your customers' opinions demonstrates to them that you're interested in what they think and that you want to keep them happy. Existing customers are one of your most valuable assets so it pays to listen to them and keep them content.
You should give current customers the opportunity to tell you not just what they think of your products and services, but what else they would like to buy from you or what changes they would like to see in the services you offer. You could be missing out on new sales opportunities, and it's also a great way to keep your exsiting customers happy and loyal to you.
5. Keep in Touch
Don't assume your customer knows about all your offers and services. Keep contact with your customers mind through email campaigns, leaflet drops etc to ensure you're always at the forefront of their mind.
Keeping in touch with your customers is another way to make them feel valued and help build your customer relationship with them – improving loyalty and customer retention. Also, make sure customers can easily contact you if problems or issues arise.
How can NWBM Help Boost Customer Loyalty?
So, you've read our top tips on boosting customer loyalty, but where do we come in? If you don't have the software in place to devise customer loyalty schemes then we can help. Our loyalty software allows you to run multiple loyalty schemes to boost customer retention and satisfaction. Maybe you want to give your customers points every time they make a purchase? Or perhaps you want specific promotions, tailored only to your best customers? Our loyalty software is flexible and powerful enough to give you a multitude of options.
As well as loyalty software, we can also provide fast, powerful and reliable epos systems to increase speed of service, cut down on costly pricing mistakes and provide you with detailed stock and sales reports. Freeing up more of your time to focus on what matters – your customers!
For more information how how we can help you boost your customer loyalty give us a call today on 01254 881177.