11 Jan 2023
Improve your Customer Service and Boost Efficiency by Installing Self Service Checkouts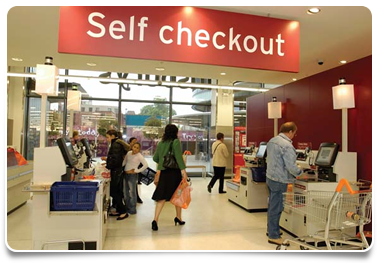 Self service checkouts are becoming more popular over recent years amongst businesses wanting to increase customer choice, increase the speed and quality of customer service or indeed save money by requiring less staff.
Shopping, for most people, (and we're not necessarily referring to shopaholics here) is an exercise in buying products in the most efficient and speedy manner as possible.  Long queues in checkout lines are a huge turn off for consumers; in many cases leading to customer walk outs.  No, most of your shoppers want to spend more time doing the things they enjoy in life.  Self service checkouts from North West Business Machines allow you to give your customers the kind of convenient experience they crave; as a result they'll be eternally grateful and are more likely to return, giving you repeat business.
Our fantastic range of self service checkouts are simple to use and extremely durable; meaning they are highly resistant to the type of damage that comes with regular usage, (breakages, heavy hands, French stick attacks from irate customers). 
At North West Business Machines our self service checkouts are operated on pole mounted touch screens, which operate the GPoS software located on concealed Poseo base units.  Customers are guided through their transactions by tailored GPoS screens, whereby they scan the barcodes of the products they have purchased and then make payment using chip and pin terminals.
Some of the benefits of self service checkouts include:
Simple and convenient to use
Less labour costs due to the reduction of manned checkouts
Increased levels of customer service
Wider customer choice
A happier environment in which to work
All the research and information shows that if shoppers are happy with their overall experience they're much more likely to return.  So it's pretty obvious; make the experience easier for them and you'll reap the rewards.  At North West Business Machines we provide a complete range of self service checkouts that make things easier for your customers and lead to a more streamlined and effective business.
For more information on how self service checkouts can boost your business' efficiency and profits then give us a call today on 01254 881177.
[contact-form 6 "Book a Demo – Self Service"]
Save
Save