11 Jan 2023
Multiple, local, everyday deals - at the touch of a button!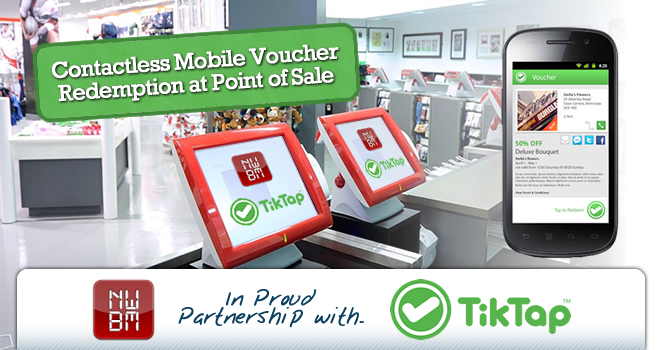 Contactless mobile coupon and voucher redemption at point of sale – brought to you by TikTap (the chaps who designed Orange Wednesdays) and coming soon to a high street near you!
"I've lost my loyalty card", "I wish I'd have known you were running that offer!", "What a great deal – shame I missed it!"… Sound familiar? Everyday thousands of consumers are missing out on your deals and special offers simply because they didn't know about it.
In fact, 33% of UK consumers don't fully utilise coupons/vouchers and loyalty programmes because they forget to carry the cards or vouchers, and 36% don't understand their loyalty scheme entitlements.
TikTap has been designed to solve this problem and gives merchants the ability to offer multiple, local everyday deals, coupons and vouchers which consumers simply select through an app and redeem in store via their mobile phone.
Tell me more….
The TikTap pod connects directly to most mainstream EPoS systems and is compatible with all Android and IOS mobile devices. Merchants can offer multiple coupons and vouchers, which consumers redeem in store through their own mobile phone!
Delivered through an exclusive plug and play pod
Compatible with all NWBM EPoS Systems sold in the last ten years
Simple to install – NWBM have partnered with TikTap to ensure smooth support where required
Simple admin platform allows merchants to uploads multiple promotional offers
Validated redemptions enable reduced marketing expenditure and provide a more measurable and greater return on investment.
Coupons and vouchers are stored in a mobile wallet and when redeemed in-store generate real-time and purchase transaction data to help merchants create better and more relevant offers.
Collects and collates redemption and transaction data to enable you to change and adapt offers to suit stock levels, the market and customer need.
There is no requirement for expensive software upgrades or purchases. The coupons/vouchers are issued to the customer through a smartphone app and are redeemed by tapping the phone on the pod as the point of sale, removing the need for paper vouchers or any further interaction with the till.
TikTak is coming very soon to a High Street near you, to find out how you can benefit from TikTap contact us today on 01254 881177.
Save