11 Jan 2023
Restaurant EPoS System - Revolutionise the Way you Run your Restaurant
EPoS stands for 'Electronic Point Of Sale, and an EPoS system can be used to effectively manage both interactions with a customer, and the relationship between front of house staff and the kitchen area.
Monitor restaurant sales performance in real time!
From a management point of view, this type of computerised system also comes with a range of data management tools that can be used to compile daily, weekly and monthly reports – it can even be used to monitor sales performance in real time. The key factor with any restaurant EPoS system is that it is entirely scaleable to the size of the premises, and any size of business can benefit from using it.
Customise orders for special requests
For the members of staff that take customer orders, a restaurant EPoS system allows them to enter full details that can be customised for special requests. This can be adjusted for taking orders at tables or at a cash register, and the system can be synchronised with hand-held devices that wirelessly interact with the main EPoS point.
Touchscreen intuitive system
A touchscreen interface reduces the amount of equipment that needs to be installed, and prompts can be added into the system to ensure that the kitchen staff members get the most accurate information (a popular example of this is asking a customer about how they prefer their steak to be cooked). Whatever the precise set-up of your pricing structure may be, a restaurant EPoS system can be entirely customised to your own specific needs with its modular layout.
Integrated chip and pin
Once an order has been collected, the restaurant EPoS system is integrated with a number of payment methods, such as a cash register or a chip and pin card reader. As soon as the order is complete, the information is electronically transmitted to the kitchen – there is no need for the time-consuming walk to the catering area to pass a slip of paper to the chef. Staff in the kitchen will appreciate the data analysis features of an EPoS system, as stock can be effectively monitored based upon sales performance. If management or kitchen members notice in advance that certain key lines are selling well, the appropriate action can be taken to ensure that these remain available to boost sales and profit.
Future proof your restaurant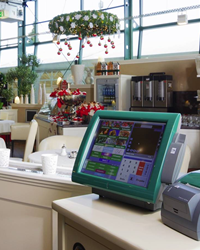 After the installation of a restaurant EPoS system, a café or restaurant has a product in place that is future-proofed in a number of ways, and that makes this type of investment even more valuable. Changes in the nature of your business can be easily programmed into the user interface, and upgraded peripherals can be installed without the need to remove the entire system and start again. If you decide to start offering a loyalty scheme for your customers, that can be administered and operated from the same set-up, and this is just one example of how a restaurant EPoS system can add extra value to a business.
For more information about how an EPoS system could revolutionise your premises, get in touch with North West Business Machines on 01254 881177.

Save