EPoS Suppliers Bury
How an EPoS system can boost your business
More and more companies in the UK are waking up to the efficiency, speed and simplicity offered by EPoS systems. The next step in retail technology, EPoS systems makes cash transactions easy for everybody involved – the customer, the staff member and the business. If you operate in the retail, hospitality or leisure industries, then consider what an EPoS could bring to your company.
Stock management made easy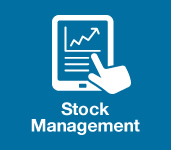 As all your sales are logged to an easy to search digital database, monitoring and managing product popularity has never been simpler. This way, you can keep track of what is selling well and what is proving unpopular, without the need for time-consuming stock taking. This will allow you to reduce costs by cutting out the less profitable items you sell.
Quicker transactions and happier customers
No customer likes slow service. An EPoS system offers an interface that breezes through all purchases in the fastest possible time. This means your clientele spends less time queueing at the checkouts and leaves your shop feeling happier. Also, it cuts down long lines in your store that might discourage passing trade.
Everything is tracked and recorded
With traditional checkout systems, misplaced receipts or invoices can wreak havoc with your accounting and logbooks. With an EPoS, every item you sell and all the money you take is stored in the database. This means you don't have to worry about ever losing this business-critical data.
Offer customers better stock updates
If you link your EPoS to the catalogue on your website, then you can make keeping your customers up-to-date with stock availability easy and efficient. This accuracy keeps customers engaged with you as a retailer and makes them trust your business even more. Plus, you can accurately advise people shopping for an out of stock product of alternative items they could purchase or when the item will next be available.
North West Business Machines are the most trusted EPoS suppliers Bury, Brandlesholme, Tottington, Summerseat, Heywood, Radcliffe, Whitefield and surrounding areas. We specialise in the supply, installation and servicing of world-class EPOS systems for every industry. To harness the power of this superb technology for your business, call our team today.

Save